Lip fillers are taking the world by storm but are they right for you?
Women of all ages come to my clinic for cosmetic enhancements and most for a different reason. Some are after a natural aesthetic and some are looking for a Kylie Jenner look.
Volume and fullness are most frequently top of the lip wish list, but there are many other instances where dermal fillers are an ideal treatment option: cracked and dry lips, lips that lack shape or definition, or for the correction of asymmetries.
The question I am asked every day by patients at my clinic is whether they should have a lip enhancement treatment or not. This is not necessarily a straight forward question. There are lots of variables at play.
_____
Facial ageing
One of the most important things to take into account is facial ageing. Women in their 40s tend to experience mid-face volume loss. We can't prevent skin ageing altogether (because, let's be clear, that is physically impossible), but I can help my clients feel more confident in their own skin, especially at this transformative age.
But fillers are not the only answer to a younger look. Other rejuvenating treatments can also be used and of course, my motto is that 'less is more'.
"Other rejuvenating treatments can also be used and of course, my motto is that 'less is more'."
Smile corrections
For many of my patients, a common issue with their lips has always been that when they smile, the top lip all but disappears, and when their face is relaxed, they look disproportionately small. While they may like their overall lip shape, they want them to look plumper and cover the upper gum when they smile.
Anti-wrinkle toxin injections are often ideal for covering the upper gum when smiling (also referred to as 'gummy smile') or to reduce turning in of the upper lip on smiling. Fillers can also be used to help lift the corners of the mouth.
I often find that clients are most happy with results that look incredibly natural. Their lips look more plump and hydrated when they're relaxed, and when they smile their gummy-grin is all but gone.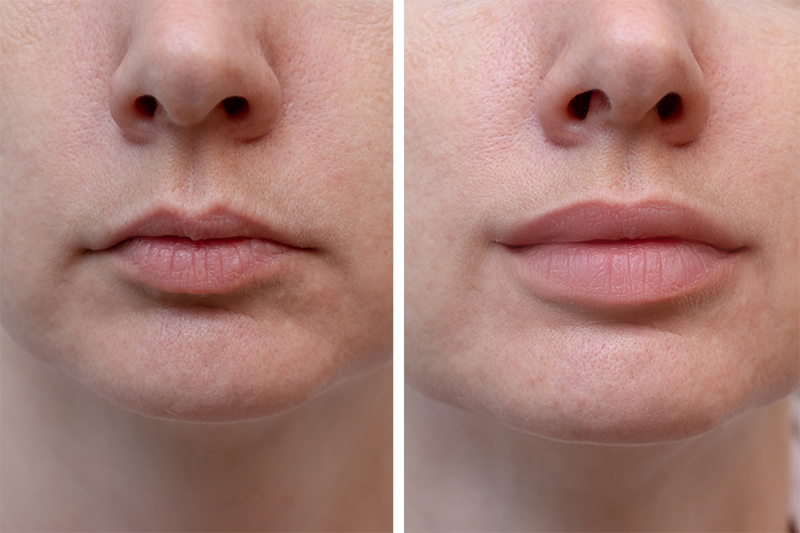 Achieving the right look
Throughout history, we've seen beauty ideals change, and while we may not know what the future of our face holds, it's clear that – for now at least – fuller, glossier and plumper looking lips are more popular than ever before, as is the conversation around it.
Whilst this current obsession with lips and the Kylie aesthetic seems here to stay, I never recommend lip enhancement when a patient's lips have a nice natural shape and volume.
When I talk to patients, new or established, I'm actually analysing their expressions and balance to observe how their lips behave. I believe the best result is one that is natural and impossible to detect. I'd like to think that for my patients, no one will know how they have managed to sail through time so remarkably unravaged rather than to leave people guessing which cosmetic treatments they have had.
How long do lip fillers last?
It depends on the product, the patient and a number of other factors, but generally speaking they last from 6–12 months. Longevity can depend on a person's metabolic rate and age.
How should lip fillers be maintained?
For those patients who would indeed benefit from lip enhancement, my advice is to repeat the treatment annually, rather than every six months.
What's the recovery time?
Some swelling might occur for around 24–48 hours but most patients see the end result on the same day with very little swelling, as long as they've been to an experienced practitioner. If swelling or bruising occurs, ice is recommended to cool the area and to speed recovery.
What is the best environment to undergo the procedure?
I encourage everyone to ensure their treatments are taking place in a medical setting, and with a practitioner who has many years of experience. Although dangerous side effects are extremely rare, if an issue such as anaphylaxis, occlusion of blood vessels, allergic reaction or extreme swelling occur, medical practitioners are best placed to manage complications if they occur.